Menu Bar Icons for iOS (iPad, iPhone)
Compatibility: iPad, iPhone, iPod
File formats: PNG, PSD
Image sizes: 60x60, 40x40, 30x30, 20x20
Background: transparent
Icon quantity: 655
File quantity: 10480
Image colors: black, white
Price: $99.00 / 79.00 EUR

Download demo
View license




Developers of menu icons for iOS, iPhone, iPad, and iPod have a fast and simple method to make amazing navigation bars, toolbars and tab bars in their applications. Plenty of raster and vector functions are accessible in the modern super-high resolution Retina displays of iPhone 5 and similar Apple devices. Apple Tab Bar Icons for iPhone will be available in three sizes and will look very modern because of their high-pixel count and accessibility of large vector. All icons can be supplied with an extra Alpha-channel layer to provide the extra depth which can be easily managed. Icons in Menu Bar for iOS have images which meet the guidelines for toolbars and navigation bars in iPhone, iPad, and iPod applications.

Our designers created 655 unique icons designed in both black and white versions. Sizes are 20x20, 30x30, 40x40, and 60x60 pixels in both PNG and PSD formats.




Note: The icon for toolbars, navigation bars and tab bars are actually masks, which are used to create the icon you will see in your actual application. You are not obliged to use only full-color icons. White and black icons with appropriate alpha transparency also can be used. iOS suggests its own effects.


---
General Icon Sizes for iPhone, iPad, and iPod Applications
While creating and designing applications for future users of Apple iPhone, iPad and iPod devices, developers should apply a certain set of images which will correspond the requirements of Apple's strict Custom Icon and Image Creation Guidelines. By minimum the developers are required to provide an application icon and a launch image. But Apple advices to provide the application with plenty of images, such as an icon which will display Spotlight search results and Settings. So if your application is able to open such files as document files, music and video, it will require icons to represent these functions. Many applications will require good graphics for navigation bars, tab bars and toolbars.

Apple represents strict demands on how the icons should be created for each application platform, be it iPhone, iPad, or iPod, the icons must meet the common technical requirements and visual guidelines.

Designing Icons for the Retina Display

Several years ago it was impossible to pack more pixels in small area, but now new Apple's new pixel-packed Retina display does that. Such high-definition displays provide perfect graphics which allows the visualization of crisp images with amazing dimension and depth. As a result Retina will also demand such high-definition icons in navigation bars, toolbars, and tab bars. Such structure, high quality, realistic view with small elements and carvings are able to create the best effect in three sizes and depth. Developers are required to provide icons of 60x60 pixels size to get splendid graphics on Retina displays. Icons for Navigation Bars, Toolbars, and Tab Bars

In general, applications can use graphics in any size, but there are several standard sizes which you icons must have, it is required for proper drawing in navigation bars, toolbars and tab bars. The common sizes of toolbars and navigation bars required by Apple for iPhone and iPod are 20 x 20 pixels, which is a standard size. The size of 40 x 40 pixels is a high resolution made for Retina displays. iPad applications use 20 x 20 pixels icon size in toolbars and navigation bar.

Tab bar icons have two sizes, one of 30 x 30 pixel for tab bars displayed in iPad, iPhone and iPod, which is considered to be standard. For iPhone and iPod applications with the Retina display it is possible to use super-sized icons of 60 x 60 pixels.

Royalty-Free Icons for iPhone, iPad, and iPod Navigation Bars, Toolbars, and Tab Bars

Aha-Soft suggests a set of ready-made royalty-free icons which correspond Apple's requirements for toolbars, navigation bars and tab bars. App Tab Bar Icons for iPhone present a great design for navigation bars, toolbars, and tab bars of iPhone, iPad, and iPod applications. There are about 120 unique icons which are available in all standard sizes of 20x20, 30x30, 40x40, and 60x60 pixels. Any icon is provided in black and white colors. Raster PNG and PSD files and scalable vector AI, SVG, and PDF sources are also available.


---
Today, Brilliant Menu Icons are designed through shiny and contrast manner with slim outlines. These icons are the collection of 175 royalty free images that indicates a vibrant range of application themes like business and personal organizing, accounting and finances, file management, Internet browsing, seasonal events and communications. These genres of icons can be applied on mobile screens and online projects. One of the best benefits of these versatile icons is that Brilliant Menu Icons can easily setup on toolbars and menus.

These versatile collections are designed to fix on Mac and iOS style. Due to these reasons, these icons have managed to draw more approval from those users who are frequently using their computers and mobiles. You can avail these icons in unexpected variations, and these are boosting the screen appearance that you can't imagine. You can also get these icons in three image states normal, hot, and disabled. The Brilliant Menu Icons are designed in magnificent color combination with transparency background. In case, you may ask website designers regarding installation or else addition of the web icons for the projects, most of them may mention it is very important to have icons to get GUI design. However, most of time the professionals are also coming over the problems while they try to create the icons on own. It is now time consuming process and will actually give you more of challenges while you are running on the deadline for some web site designing projects.

In case, you are the web designer or you desired to make the clean, vivid as well as accurate looking design, which suits clients requirements, use the web icons, which are set to get downloaded. All you have to opt for websites from where you may exactly download the fresh icons free.


---
We offer stock icons for desktop applications, web sites, mobile software, graphic design, business cards.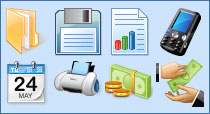 A great set of icons for sound-recording applications and audio catalogues. Wide range of sizes from 16x16 to 48x48 pixels is provided.
A collection of bright and stylish icons that will instantly enhance any web page or portal. Available in all the typical toolbar sizes.
Large Crystal Icons set holds a great variety of images in all the popular icon formats, including ICO, PNG, BMP and 3ds Max.
Large Vector Icons represent everything a vector icon set can be. Smooth, easily readable, increadibly stylish - and the best thing is, they all work together as a matching set.