Menu Icons> Windows 7 Icons
A huge pack of over 1800 icons, Menu Icons for Windows 7 are designed to match the new graphic style introduced in Windows 7. The collection of Windows 7 icons addresses the broadest range of topics, and will fit into any project, software or online. The Menu Icons for Windows 7 set includes images covering most possible applications, and supplies a variety of generic and themed icons. This set is best suited for developing Windows software and mobile applications as well as designing Web sites, social networks, and educational portals.

Menu Icons for Windows 7 come with a wide range of variations boosting the total number of images to 9800. Three different states (Normal, Hot and Disabled) and two color options (semi-transparent True Color and 256-color images drawn on a transparent background) are included. All images come in four file formats (ICO, PNG, GIF, and BMP) and four sizes (48x48, 32x32, 24x24, and 16x16 pixels).


Image states: normal, hot, disabled
File formats: PNG, ICO
Image sizes: 48x48, 32x32, 24x24, 16x16
Background: transparent
Icon quantity: 1843
Image quantity: 7372
File quantity: 9215
Price: $99.00 / 79.00 EUR

Download demo
View license


---
Windows 7 Menu Icons - Icon List
3d bar chart, 3d chart, 3d graph, 3d graph1, 3G, Abacus, Abort, Abort1, Abort2, About, About1, About2, Access denied, Access key, Access network, Account, Account ID, Accountant, Accounts, Activity reports, Add, Add flight, Add patient, Add pictures, Add sound, Add to favourites, Add users, Add1, Add2, Address book, Address book1, Address book2, Address book3, Address book4, Address book5, Admin, Admin1, Adult patient-boy, Adult patient-girl, Aerial bomb, Aeroplane, Afro-American, Agent, Agent1, Agriculture, Agronomist, Aim, Air forces, Air tickets, Air tickets v2, Air traffic controller, Aircraft, Airline, Airline1, Airplane, Airport, Alarm, Alarm clock, Alarm1, Alarm2, Alert, Alien, All reports, Amber, Ambulance car, Ambulance car1, American Indian, Amethyst, Ammunition, Ampoule, Ampoules, Anatomy, Anatomy1, Angel, Angel1, Antenna, Anti-rockets, Apple, Apply, Appointment, Appointment1, Approve message, Aquamarine, Arab, Armchair, Armor, Army, Army officer, Arrow, Arrows, Arts, Artwork and Antiques, Astronaut, ATM, ATM loading, ATM1, Atom, Atomic, Atomic bomb, Attach, Attach1, Attention, Attention1, Auction, Auditor, Auto insurance, Automobile loan, Automobile loan interest payment, Awards, Baby, Baby boy, Baby carriage, Baby carriage1, Baby girl, Back, Back1, Back2, Backup archive, Bacteria, Bad mark, Bad mark1, Bad tooth, Baggage, Balance, Bank, Bank account, Bank notes, Bank service, Bank1, Bank2, Bar chart, Barbarian, Barber, Bar-code, Bar-code scanner, Basket, Batman, Battery, Battery1, Battery2, Battery3, Bedroom community, Bell, Bell1, Beverage, Bike, Billboard, Binary data, Binoculars, Binoculars1, Bio hasard, Blanks, Blinklist, Blog, Blonde, Blood test, Blue button, Blue chip, Blue chips, Blue Christmas Bell, Blue message, Blue pin, Blue pin1, Blue twitter, Bluetooth, Bluetooth adapter, Bluetooth symbol, Bluetooth1, Bluetooth2, Boat, Book, Book library, Book1, Bookkeeper, Book-keeper, Books, Books1, Boss, Boss1, Boss2, Boss3, Boss4, Box, Box1, Boy, Brain, Brain probe, Brick house, Bridge, Brief case, Brief case1, Brief case2, Brief case3, Britain flag, Broken chain, Broken connection, Brush, Brush1, Bug, Builder, Building, Building construction, Building crane, Building1, Buildings, Buildings1, Bulb, Bullet, Burn CD, Burn CD v2, Burn cd1, Burn document, Burn dustbin, Burn sheet, Bus, Business, Businessman, Businessman1, Busy, Buyer bag, Cable, Cable TV, Cabriolet, Cafe, Calculator, Calculator1, Calculator2, Calculator3, Calculator4, Calendar, Calendar Sh, Calendar1, Calendar2, Calendar3, Calendar4, Calendar5, Call, Call bell, Call off, Call up, Call waiting, Call1, Camcorder, Camcorder1, Camcorder2, Camera, Camera v2, Camera1, Camera2, Camping-site, Cancel, Cancel1, Cancel2, Cannon, Captain, Car, Car buyer, Car factory, Car guard, Car key, Car keys, Car repair, Car salesman, Car utilization, Car1, Card file, Card file1, Card file2, Card file3, Card file4, Card terminal, Cardfile, Cardiogram, Cardiologist, Cardiologist1, Cargo, Cars, Case history, Case history1, Cash, Cash register, Cash register1, Cash register2, Casino, Catterpillar tractor, CD-disk, CD-disk v2, CD-disks v2, Cell network connection, Cell phone, Cell phone1, Cell phones, Cellphone, Cellphone and modem, Certificate, Certificate1, Certificate2, Certification, Chain, Chain link, Chair, Chart, Chart xy, Chart1, Charts, Chat, Check mark, Check out cart, Check patient, Check tooth, Check user, Chemical plant, Cheque, Chess, Chief, Chief1, Children, Chinese cook, Chip, Chip1, Christmas, Christmas Bell, Church, Church1, Cinema, Citrine, City, City1, Cleaner, Clever monkey, Client, Client list, Client list1, Client list2, Client network, Clock, Clock face, Clock1, Clock2, Close, Close document, Close1, Close2, Closed door, Closed door1, Closed door2, Closed door3, Coach, Coal power plant, Coconut tree, Coffee break, Coffee cup, Coffin, Coin, Coin1, Coins, Coins1, Coins2, Coins3, College, Color balance, Color palette, Commercial, Community, Company, Company1, Company2, Company3, Compass, Compass needle, Compass1, Component, Computer, Computer doctor, Computer doctor1, Computer network, Computer network1, Computer sound, Computer1, Condominium, Conference, Conference1, Conference2, Configuration, Configuration1, Connect network, Construction, Construction firm, Contact, Copy, Copy v2, Copy1, Copy2, Copywriter, Courier, Cowboy, Crane truck, Credit, Credit card, Credit card1, Credit cards, Credit cards1, Credit cards2, Credit1, Credit2, Crossroad, Crossroad plain, Crossroad X, Crystal sphere, Crystal sphere1, Currency, Custom house, Customer, Customers, Customers1, Customers2, Customers3, Cut, Cut1, Cut2, Cut3, Cyclist, Cylinder chart, Dark hand, Data, Data container, Data server, Data synchronization, Data transfer, Data transfer1, Data transfer2, Data transmission, Data transmission, Database, Database1, Death, Death1, Decline message, Decorator, Decrease volume, Delayed message, Delete, Delete message, Delete patient, Delete tooth, Delete1, Delete2, Delete3, Delicious, Delivery, Delivery1, Demography, Demography1, Dentist, Depression, Deseased, Desktop, Desktop apparatus, Desktop1, Detective, Device, Devil, Dial, Diamond, Diamond mining, Diamond1, Digg, Digital dialer, Disaster, Disaster warning, Disaster1, Disaster2, Disconnect network, Dish aerial, Diskette, Disks, Display, DNA, DNS, Doctor, Doctor appointment, Doctor info, Doctor info1, Doctor1, Document, Documents, Documents1, Documents2, Dollar, Dollar coin, Dollar1, Dollar2, Dollar3, Dollar4, Down, Down1, Down2, Download, Download image, Download1, Download2, Dragon, Driver, Driver installation, Drug, Drug basket, Druggist, Druggist1, Drugs, Drugstore, Drugstore1, Drum, Duckling, Duplicate frame, Duplicate frame1, Ear, Ear1, Earnings, Earnings1, Earth, Earth1, Earth2, Ecology, Edit document, Edit document1, Edit message, Edit patient, Editor, Egyptian Pyramids, Einstein, Eject, Electric power, Electrician, Electricity supply network, Electronic industry, E-mail, E-mail symbol, E-mail1, E-mail2, E-mail3, Emerald, Emergency, Empty ATM, Empty basket, Empty dustbin, Empty pallet, Energy, Energy1, Energy2, Engineer, Entire network, Envelope, Equalizer, Equipment, Erase, Erase1, Erase2, Eraser, Eraser1, European flag, Excavator, Exchange, Exit, Exit1, Exit2, Export, Export from phone, Export message, Eye, Eye chart, Facebook, Factory, Family, Family1, Farm, Farmer, Fast back, Fast back v2, Fast forward, Fast forward v2, Fast internet, Fate, Favourites, Favourites1, Favourites2, Favourites3, Fax, Fax configuration, Fax1, Feather, Female, Female profile, Female screw, Female1, File sharing, Film, Filmclapper, Filter, Filter1, Filters, Financial services, Financier, Financier1, Find, Find car, Find next, Find previous, Find1, Find2, Finder, Finding, Fingers, Fire, Fire engine, Fire wall, Fireman, Firewire, First, First aid, First-aid, Flags, Flickr, Flights, Floppy disk, Floppy disk1, Flower, Flying Jawa, Folder, Folder sharing, Folder XP, Folder XP1, Folder1, Folder2, Follow me, Food, Food1, Fool, Football stadium, Footballer, Forex trading, Forklift truck, Form, Forum, Forum1, Forward, Forward1, Forward2, Forward3, Four-leafed clover, Frame, Frame1, FreeBSD, Freight car, Freight container, FTP, Full basket, Full dustbin, Full recycle bin, Full red basket, Furniture, Gallery, Game, Game cards, Games, Garden, Garnet, Gauge, Gear, Gear1, Gear2, Gear3, Gears, Geisha, Gem, Gemstone, Genealogy, General, Genetics, Get message, Get money, Get sound, Gift, Gift1, Girl, Glass sphere, Global manager, Global network, Globe, Globe1, Globe2, Globe3, Go back, Go back1, Go back2, Go down, Go forward, Go forward1, Go forward2, Go up, Gold Dollar, Gold Euro, Gold Pound Sterling, Gold star, Gold Yen, Gold-mine, Good mark, Good mark1, Good mark2, GPRS, GPS, Graph, Graph1, Graphic designer, Graphic tools, Grave, Gray eraser, Green button, Green cross, Green cross 3d, Green Dollar, Green Euro, Green pin, Green pin1, Green Pound Sterling, Green RSS reader, Green user, Green Yen, Gun, Gun carriage, Hacker, Hacker1, Hammer, Hammer gun carrier, Hand, Hand cart, Hand truck, Hand1, Handshake, Handshake1, Hangar, Hangup, Hard drive, Head phones, Head phones v2, Head physician, Head-phones, Head-phones1, Health, Health care, Health care shield, Health protection, Heart, Helicopter, Helmet, Help, Help book, Help book1, Help1, Help2, Help3, Hemp leaf, Hibernate, Hide, Hiker, Hiker1, Hint, Hint1, Hint2, Historian, History, History1, History2, History3, History4, Hit parade, Hitman, Holiday, Holiday v2, Hollywood smile, Home, Home network, Home page, Home page v2, Home page1, Home page2, Home1, Home2, Home3, Homepage, Hospital, Hospital nurse, Hospital nurse1, Hospital1, Hot documents, Hot documents1, Hotel, Hotel stars, Hotel1, Hotels, Hourglass, House, House1, Howitzer, Html message, HTTP server, Hummer, Hunter, Hygienist, Ice, ID, Ignore, Ignore1, Image document, IMAP server, Immunologist, Import, Import message, Income, Income1, Incoming call, Increase volume, Index, Index1, Index2, Industry, Infected message, Info, Info1, Info2, Info3, Insert, Install, Insurance, Insurance1, Insurance2, International call, Internet, Internet access, Internet access1, Internet application, Internet application1, Internet application2, Internet company, Internet connection, Internet1, Internet2, Internet3, Intranet, Inventory, Investigation, IP lookup, IRDA, Japanese cook, Jeep, Jeweler, Jockey, Juce, Judge, Judge1, Juke box, Justice, Karaoke, Key, Key keeper, Key1, Key2, Key3, Keyboard, Keys, King, King1, Knapsack, Knight, Knowledge, Knowledge1, Lab, Label, Laden pallet, Laden pick-up, Large group, Large group1, Last, Law-court, Lawyer, LCD monitor, Lecturer, Left, Letter A, Letter Z, Level, Library, Library1, Light bulb, Light bulb1, Light button, Liner, Linux penguin, List, List finder, List1, List2, Load data, Loading, Lobster, Local area connection, Locate, Lock, Lock v2, Lock v3, Lock1, Lock2, Lock3, Locked user, Locked users, Logged off, Logged on, Login, Login form, Login1, Login2, Logout, Logout1, Logout2, Logout3, Lookup, Lorry, Lost communications, Lost communications1, Loud speaker, Low cash ATM, Magnifier, Mail, Mail delivery, MAIL server, Mail1, Mail2, Mail3, Mail4, Man, Manage views, Managers, Map, Map-case, Maps, Market woman, Marketer, Marketer1, Medal, Medic, Medical bag, Medical insurance, Medical insurance1, Medical invoice, Medical invoice information, Medical invoice paid, Medical store, Medicine, Meeting, Men, Message, Message1, Messages, Messages1, Mexican, Mexican salesman, Microphone, Microscope, Microsoft flag, Midi, Military-industrial establishment, Misc, Missile, Mobile chat, Mobile folder, Mobile phone, Mobile phone1, Mobile phone2, Mobile phone3, Mobile sound, Modem, Modem1, Money, Money bag, Money bag1, Money1, Money2, Money3, Monitor, Mortar launcher, Mosquito, Motor mechanic, Motorcycle, Mountain, Mouse, Mouth, Movie, Movie industry, Movie1, Movie2, Multimedia, Multimedia message, Multiple problems, Mummy, Municipal hospital, Music, Music disk, Music document, Music folder, Music frame, Music note, Music note1, Music notes, Music notes v2, Music1, Musical instruments, Mute, Mute1, MySpace, Natural drug, Nephrite pyramid, Netvibes, Network administrator, Network card, Network certificate, Network computer, Network connection, Network connection1, Network connections, Network connections1, Network controller, Network data, Network engineer, Network files, Network folder, Network group, Network hub, Network ID, Network key, Network printer, Network problem, Network security, Network server, Network status, Network structure, Network support, Network tool, Network tools, New document, New document1, New message, New Year, New Year Tree, News, Newspaper, Newspaper1, Newspapers, Next, Next message, Next1, Next2, Ninja, Nippers, No, No connection, No data, No entry, No exit, No sound, No sound v2, No1, No2, No3, Notary, Notebook, Notes, Notes1, Notes2, Notes3, Nuclear explosion, Objects, Objects v2, Objects1, Office, Office phone, Official, Offline, OK, OK1, OK2, OK3, OK4, Old cannon, Online, Online contacts, Online contacts1, Online cube, Online writing, Opal, Open door, Open door1, Open door2, Open door3, Open file, Open lock, Open mail, Open mail1, Options, Options1, Options2, Options3, Options4, Optometrist, Optometrist1, Orange forum, Orange pin, Orange pin1, Orange RSS reader, Orange twitter, Orc, Order form, Oscilloscope, Out of service, Page options, Paint, Painter, Painter1, Palette v2, Palm, Palm1, Panel truck, Parachute, Parrot, Party, Party1, Passport, Passport1, Paste, Paste v2, Paste1, Paste2, Patient info, Patient warning, Patient-boy, Patient-girl, Patient-man, Patients, Patient-woman, Pause, Payment, Payment1, PC-PDA synchronization, PC-Web synchronization, PDA, PDA1, Peak cap, Peak cap v2, Pearl, Pen, Pen1, Pencil, People, People contact, People contact1, People contacts, People contacts1, People online, People online1, People online2, People1, Performer, Peridot, Personal loan, Personal loan1, Petition, Petroleum industry, Pets, Phial, Phone, Phone and monitor, Phone card, Phone chat, Phone connection, Phone directory, Phone lookup, Phone music, Phone number, Phone receiver, Phone search, Phone support, Phone support1, Phone with modem, Phone1, Phone2, Phone3, Phone4, Phone5, Phones, Photo, Photo1, Photo2, Photo3, Photographer, Physician, Physician1, Piano, Pick-up, Picture, Picture1, Pictures, Pie chart, Pie chart1, Piggy-bank, Pill, Pills, Pilot, Pin, Pinion, Pinion1, Pink pin, Pink pin1, Pirate, Pirate1, Pirates, Pizza man, Place selection, Plane, Play, Play back, Play back v2, Play forward, Play forward v2, Play music, Play1, Play2, Playback, Playboy, Pointer, Poison, Police car, Police officer, Police station, Policeman, Policeman1, Pool, POP server, POP3 server, Porridge, Portable radio transmitter, Post office, Postage stamp, Postman, Postman1, Power, Power1, Power2, Pregnancy, Pregnancy1, Preview, Preview1, Previous, Previous message, Price list, Price list1, Price-list, Print, Print preview, Print preview1, Print1, Print2, Printer, Prisoner, Prisoner1, Problem, Problem1, Process call, Processed call, Product basket, Professional sports, Professor, Professor1, Programmer, Propecia, Properties, Properties1, Properties2, Properties3, Properties4, Property, Property1, Property2, Protection, Psychoanalyst, Psychoanalyst, Psychologist, Publicity agent, Publicity agent1, Purple pin, Purple pin1, Quartz Crystal, Queen, Query, Question, Question1, Question2, Question3, Question4, Questionnaire, Questionnaire, Questionnaire1, Quotation, Radar, Radiation, Radio, Radio transmitter, Radio transmitter1, Radio1, Railway, Rain, Rat, RatSH, Read mail, Read message, Real Earth, Real Earth1, Real estate, Realtor, Realtor1, Realty, Receive mail, Receptionist, Receptionist1, Record, Recycle bin, Recycling, Recycling1, Recycling2, Recycling3, Red basket, Red book, Red bus, Red button, Red cross, Red Cross and Crescent, Red flag, Red gear, Red gear1, Red message, Red mouse, Red OK, Red OK1, Red pencil, Red percent, Red phone, Red phone receiver, Red phone1, Red pin, Red pin1, Red receiver with cord, Reddit, Redial, Redo, Redo v2, Redo1, Redo2, Redo3, Refresh, Refresh information, Refresh v2, Refresh1, Refresh2, Refresh3, Refresh4, Refresh5, Register, Registered problem, Registration, Registration1, Registry, Relaxation, Religious figure, Remote access, Removable drive, Remove, Remove from favourites, Remove patient, Remove pictures, Remove sound, Remove tooth, Remove user, Remove1, Remove2, Rename, Rent a car, Repair, Repair connection, Repair1, Repair2, Repeat, Replace, Report, Report1, Report2, Reports, Reports1, Reports2, Reports3, Reports4, Reports5, Resize image, Restart, Restaurant, Retiree, Retort, Reverse lookup, Revert, Rewind, Rifle, Right, Ring tone, Ring-buoy, Road, Road down, Road H, Road NE, Road SE, Road up, Road V, Road1, Robot, Rocket, Roll, Roll1, Round undo, RPG launcher, RSS, Ruby, Safe, Sail, Sale, Salt crystal, Santa Claus, Santa Claus1, Sapphire, Satellite, Satellite connection, Satellite Radio Company, Save, Save all, Save all1, Save all2, Save as, Save as1, Save data, Save file, Save v2, Save1, Save2, Scales, Scanner, Schedule, Schedule1, Schedule2, Schedule3, Scheduled, School, Scientist, Scientist1, Screwdriver, Sculptor, Sculpture, Search, Search address, Search computer, Search contacts, Search doctor, Search e-mail, Search engine, Search icons, Search nurse, Search nurse1, Search patient, Search people, Search photo, Search v2, Search1, Search2, Search3, Search4, Secretary, Secretary1, Secretary2, Secured network, Security, Security1, Send from phone, Send mail, Send mail1, Send message, Send MMS, Send money, Send SMS, Send sound, Send to phone, Server, Server1, Settings, Settings1, Settings2, Settings3, Settings4, Setup, Sharing, Shell, Shield, Shield and swords, Shield1, Shield2, Shield3, Ship, Shoes, Shop, Shopping cart, Sick-list, Signal, Signal strength 0, Signal strength 1, Signal strength 2, Signal strength 3, Signal strength 4, Signal strength 5, Signature, Signature1, Silent ring, Silver car, Silver USB connection, SIM-card, Singer, Sinusoid, Skiing, Skull, Skull1, Smile, Smile image, Smile1, SMTP server, Sniffer, Snowflake, Social network, Soldier, Soldier1, Soldiers, Somebody, Sound, Sound card, Sound document, Sound file, Sound level, Sound message, Sound on, Sound regulator, Sound settings, Sound tooth, Sound v2, Sound1, Spam, Speaker, Spectacles, Spray, Spy, Spy1, Spy2, SQL, SQL server, Square Earth, Square Earth1, Stadium, Staff, Staff1, Star, Star wars, Start Java, Statistics, Steel industry, Stethoscope, Stock market, Stomatologist, Stomatologist1, Stop, Stop1, Stop2, Stop3, Store, Structure, Student, StumbleUpon, Subway, Superman, Support, Surgeon, Surgeon1, Swarovski crystal, Switch, Sword, Synthesizer, Syringe, Table, Table1, Tables, Tablet, Tablets, Tag, Tank, Tank truck, Tank wagon, Tank1, Tape cassette, TAPI, Tasks, Tax, Taxi, Teacher, Technology, Technorati, Telecommunications, Telephone, Telephone directory, Telephone receiver, Telephone1, Telephone2, Television, Temperature, Temporary folder, Temporary tooth, Tent, Terminal, Terrestrial globe, Test tubes, Text document, Textile industry, Theater, Themis, Thermometer, Thief, Time, Time management, Time1, Time2, Time3, Time4, Timer, Timer1, Tip of the day, Tip of the day1, Tip of the day2, Toilet, Tone dialing, Tools, Tools1, Tooth, Tooth status, Tooth-brush, Tooth-paste, Top, Topaz, Torch, Tourist, Tourist business, Tourist industry, Tourist1, Tow truck, Tower, Trade, Traffic, Traffic lights, Trailer, Trailer1, Train, Transport, Travel, Travel industry, Treble clef, Tree, Trip, Tumbledown building, Turn off, Turn off button, Turn off1, Turn off2, Turn off3, Turn off4, TV, Twitter bird, Umbrella, Uncle Sam, Uncle Sam1, Undo, Undo v2, Undo1, Undo2, Undo3, Unemployed, Uninstall, Uninstall1, University, University1, Unloading, Unlock, Unlock v2, Unlock1, Up, Up folder, Up1, Up2, Update, Update1, Upload, Upload image, Upload to phone, Upload1, Upload2, Urologist, USA flag, USA map, USB, USB connection, User, User group, User group1, User group2, User group3, User group4, User info, User1, User2, User3, User4, Users, Users folders, Users1, Users2, Users3, Users4, Utility ATV, Vaccination, Vaccinations, Van, Vase, Veterinary, Viagra, Vibration ring, Vibration ring tone, Video games, View, View1, VISA card, Visual communication, Visual communication1, Visual communication2, Voice chat, Voice chat1, Voice mail, VOIP, Volume, Volume down, Volume down1, Volume down2, Volume up, Volume up1, Volume up2, Volume1, Volume2, Wait call, Waitress, War, Warehouse, Warehouse1, Warning, Warning1, Warning2, Weapon, Web, Web designer, Web page, Web site, Web1, Web2, Web3, Webcam, Webcam1, Web-camera, Web-camera1, Web-camera2, Wedding, Wheel, Wheelchair, Wheelchair1, Wheeled tractor, Wi-Fi, Wi-fi1, Wi-Fi2, Wind rose, Wind rose v2, Window, Windows, Wireless, Wireless connection, Wireless modem, Wireless modem1, Wizard, Woman, Woman1, Women, Worker, Worker1, Workers, Workgroup, World, Wrench, Write e-mail, Write e-mail1, Write e-mail2, Writer, X-ray, Yacht, Yellow message, Yellow percent, Yellow pin, Yellow pin1, Yellow submarine, Yes, Yes1, Yes2, Youtube, Zircon, Zoo, Zoom, Zoom in, Zoom in v2, Zoom out, Zoom out v2, Zoom place, Zoom1, Zoom2


---
Make Icons - Enhancing Your Application Demand!
Here, you can find out tons of things for taking care of while making an icon or application and it is not least with the interface. While you are setting up your mind to make icons, then you need to consider on development process because these icons application can make or break your market goodwill. Make icons tricks is playing a vital process in the development of your application. So, you will consider about the interface because interface needs to be designed carefully so that the icon users can use these icons freely & comfortably. In this way the users can get the right software or application. At present, making icons is not a suitable task for all, because making icons files and icons for windows can play a critical role in preparing the interface of the application or can make the software user friendly. Making icons with icon tools, and icon software or application for Windows including Windows 7 will confirm useful icons further.

Thus, to increase attention of users you have to use appropriate icons efficiently. And this makes differences and brand attraction to products from companies. Similar thing is been applied while you are creating program and is website. In this case you have to use lots of icons to express various choices effectively. Thus, to make the new style you must have to use a few new design and attractive design in icons. And perfect icon is the most creative suppliers of icons in online.

Icon software site: http://www.aha-soft.com/


---
We offer stock icons for desktop applications, web sites, mobile software, graphic design, business cards.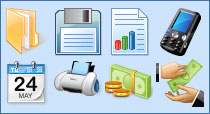 A great set of icons for sound-recording applications and audio catalogues. Wide range of sizes from 16x16 to 48x48 pixels is provided.
A collection of bright and stylish icons that will instantly enhance any web page or portal. Available in all the typical toolbar sizes.
Large Crystal Icons set holds a great variety of images in all the popular icon formats, including ICO, PNG, BMP and 3ds Max.
Large Vector Icons represent everything a vector icon set can be. Smooth, easily readable, increadibly stylish - and the best thing is, they all work together as a matching set.