Icon Packs > Simple Menu Icons
Simple Menu Icons offer about 260 unique images covering a range of topics such as basic navigation, Zodiac signs, multimedia controls, and a variety of buttons, signs and sport symbols. The collection includes icons drawn in several styles, including round buttons, rounded square signs, and images drawn on a transparent background.

The icon pack includes a number of variations that boost the total number of images to over 4200. All icons are supplied in PNG, GIF, BMP, and ICO formats for quick integration with all types of projects. Screen resolutions of 48x48, 32x32, 24x24, 20x20, and 16x16 pixels are included. 32-bit versions are drawn in True Color and include a semi-transparent Alpha-channel layer, while 256-color versions are supplied on a transparent background. All icons from the Simple Menu Icons pack come in Normal, Hot and Disabled versions.


Image states: normal, hot, disabled
File formats: PNG, GIF, BMP, ICO
Image sizes: 48x48, 32x32, 24x24, 20x20, 16x16
Background: transparent
Icon quantity: 264
Image quantity: 2640
File quantity: 4224
Price: $49.00 / 39.00 EUR

Download demo
View license


---
Simple Menu Icons - Icon List
Abort, AC, AC1, Ahead, Anchor, Atomic, Back, Back button, Bike storage, Bike storage1, Bluetooth, Bottom, Branch, Breakfast, Breakfast1, Business center, Business center1, Cable TV, CableTV, Closed door, Constraints, Daily maid service, Daily maid service1, Disabled, Disabled person, Dishwasher, Dishwasher1, Divide, Down, Down arrow, Down button, Down button1, Download, Dryer, Dryer1, DVD, DVD1, Eject, Eject button, Elevator, Elevator1, Evening reception, Evening reception1, Exit, Export, Family, Family1, Fax, Fax1, Firewire, First, First button, First1, Fitness room, Fitness room1, Flip horizontally, Flip vertically, Forward, Forward 3d, Forward button, Forward button1, Free breakfast, Free breakfast1, Free internet, Free internet1, Full-size refrigerator, Full-size refrigerator1, Gauge, Globe, Go, Go back, Go down, Go forward, Go up, Green back button, Green forward button, Green redo button, Green undo button, Grocery shopping service, Grocery shopping service1, Headphones, Hi-Fi stereo, Hi-Fi stereo1, Hi-speed internet, Hi-speed internet1, History, History1, Home, Home1, Home2, Hotel, Hotel1, House, House link, Ignore, Import, In, Indoor pool, Indoor pool1, Inout, Internet, Internet1, Join, Key, Key1, King sized bed, King sized bed1, Last, Last button, Last1, Leave house, Left arrow, Left button, Left button1, Link, Lock, Lock1, Lock2, Logout, Merge, Microwave, Microwave1, Mini refrigerator, Mini refrigerator1, Music, Mute, Navigator, Next, Next button, Next1, No dog, No dogs, No pets, No pets1, No smoke, No smoke1, Notes, Off, Open door, Out, Outdoor pool, Outdoor pool1, Oven, Oven1, Pause, Pause button, PC, PC1, People, People x10, People x11, People x12, People x13, People x14, People x15, People x2, People x3, People x4, People x5, People x6, People x7, People x8, People x9, People1, Pets, Pets1, Phone, Phone line, Phone line1, Phone1, Play, Play back 3d, Play button, Play forward 3d, Play music, Playback, Playback button, Pointer, Previous, Previous button, Previous1, Queen sized sofa bed, Qween sized bed, Qween sized bed1, Qween sized sofa bed, Record, Record button, Recycling, Redo, Redo 3d, Redo button, Redo button1, Redo operation, Refresh, Restaurant, Restaurant1, Revert, Rewind, Rewind 3d, Rewind button, Right arrow, Right button, Right button1, Room service, Room service1, Rotate ACW, Rotate CW, Rotate left, Rotate right, Sauna, Sauna1, Schedule, Schedule1, Setup, Sink, Sink1, Small refresh, Smile, Smoke, Smoke1, Sport court, Sport court1, Start, Start1, Steering-wheel, Stop, Stop button, Stop1, Swimming pool, Swimming pool1, Switch, Sync, Synchronize, Time, Time1, Top, Turn left, Turn right, TV, TV1, Tween bed, Tween bed1, Tween sofa bed, Tween sofa bed, Undo, Undo 3d, Undo button, Undo button1, Undo operation, Up, Up arrow, Up button, Up button1, Update, Up-down, Upload, Usb, VCR, VCR1, Washer, Washer1, Whirlpool bath, Whirlpool tub, Wifi.


---
777icons.com - Save Thousands on Designer Services with Stock Icon Packs!
Read about the newest trends in designing modern Windows Vista-style graphics for your Web and desktop projects.

Designers. Their artistic nature gives them the 'right', or 'authority', to give their 'works of art' in behind time, to improvise, designing stuff that's not really needed of them, and to fuss around when it comes to tastes. Artists seem to literally create pain in their boss's heads and empty their pockets by designing stuff that sometimes isn't really wanted. Farthermore, time is money, and time is what many artists seem to neglect! There are, certainly, excellent designers out there, but they are too expensive, especially when it comes to the task of making Vista style icons.

Icon packs are always needed. Icons have the power of representing something. We will always understand the little dog-eared paper on any toolbar meaning the 'New' button. We will always recognize the floppy disk image representing the 'Save' and 'Save As'. And every Internet PC user understands the blue MS Internet Explorer symbol. Icons are used in software, on PC desktops, on sites, on food packages, in books, in advert booklets, in website banners, everywhere!

Imagine if you could always have premade designs at hand - Vista icons, specialized icons, toolbar icons, etc. That would mean that you would be able to get what you want, and to get it in a few minutes! No need to wait weeks for a set of Vista style icons or a pack of stock icons to be used in your latest system utility program for Microsoft Windows Vista or any other system. No need to pay clumsy and messy designers for Vista style icons that aren't really Vista style icons, but are regular stock icon packs.

777icons.com is the absolute WYSIWYG (What You See Is What You Get) application icon pack and program icon set source. 777icons.com holds Vista icons, stock icons, toolbar icons, and other web-development and software icon packs. 777icons.com has lots of icons available for corporate software companies, individual users and web developers. 777icons.com has an easy interface. The images are comfortably 'packed' and separated by category, and a powerful 'Search and Buy Icon' built-in feature lets you find any single icon or set of icons by simple keywords like 'Vista icons', 'office icons', 'transport icons', 'toolbar icons', etc.

After having viewed a preview of an icon and clicking the 'Purchase Icon' button you will get your icon (or set of icons) in no time! You can also press the 'Order Icon' button if the stock icons presented are not quite acceptable for you. 777icons.com is always ready to alter stock icons or create new images upon request for your application, webpage or personal PC interface. 777icons.com's designers and modelers work around the clock to provide advanced and good looking, customized and original multi-purpose icon packs. The professional tools used in creating Vista style icons and stock icons help save your time in the first place. Save time, funds and nerves with 777icons.com. Buy icons today and make your desktop, piece of software, webpage and anything else look great!


---
We offer stock icons for desktop applications, web sites, mobile software, graphic design, business cards.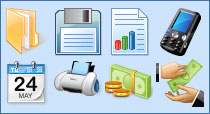 A great set of icons for sound-recording applications and audio catalogues. Wide range of sizes from 16x16 to 48x48 pixels is provided.
A collection of bright and stylish icons that will instantly enhance any web page or portal. Available in all the typical toolbar sizes.
Large Crystal Icons set holds a great variety of images in all the popular icon formats, including ICO, PNG, BMP and 3ds Max.
Large Vector Icons represent everything a vector icon set can be. Smooth, easily readable, increadibly stylish - and the best thing is, they all work together as a matching set.