Menu Icons for iPad. iPhone Menu Icons.
Styled to closely mimic the look of Apple iOS, Menu Icons for iPhone are a perfect match for iPhone and iPad apps. Offering just about everything an iOS app developer needs, Menu Icons for iPhone include over 160 icons covering the very common topics such as file management, navigation, currencies, accounting, finances, PIM, events, messaging, organizing, banking, insurance and communication. This library offers images drawn in two distinct styles. The first style includes blue button background, and is perfect to be used on toolbars, menus and iPhone/iPad system screens. Second-type images come on plain transparent background to be used within applications.

The collection comes in four sizes common to iOS applications, including resolutions of 48x48, 32x32, 24x24, and 16x16 pixels. PNG and ICO versions of each icon are included in Normal, Hot and Disabled styles. 256-color and True Color with alpha-channel versions are included. These variations boost the total number of icons at your disposal to just over 650 images.


Image states: normal, hot, disabled
File formats: PNG, GIF, BMP, ICO
Image sizes: 48x48, 32x32, 24x24, 20x20, 16x16
Background: transparent
Icon quantity: 167
Image quantity: 668
File quantity: 835
Price: $49.00 / 39.00 EUR

Download demo
View license


---
Menu Icons for iPhone - Icon List
Account books, Accountant, Add, Address book, ATM, Attach, Auction, Automobile loan, Automobile loan interest payment, Bank, Banknote, Bankruptcy, Bar-code, Bar-code scanner, Basket, Book, Book-keeper, Book-keeping, Brief case, Brief case1, Bundle, Burn money, Calculator, Calculator v2, Calculator1, Camera, Cancel, Capital gains, Card file, Card terminal, Cash register, Cash register v2, Cash register1, Certificate, Cheque, Chip, Coin, Coin1, Coins, Collection of a check, Computer, Conversion of currency, Copy, Credit, Credit card, Credit cards, Credit cards1, Cut, Database, Delete, Delivery, Diamond, Documents, Dollar, Down, Earnings, Edit, E-mail, Erase, Error, Euro, Exchange, Exit, Fast delivery, Fengshui coin, Filter, Financier, Fire damage, Folder, Fuel expenses, Full basket, Gift, Go back, Go forward, Hand cart, Hand cart1, Handcuffs, Handshake, Help, Help book, Hint, Income, Info, Insurance, Internet payment, Key, Key and lock, Keys, Letter, List, Lock, Lock1, Marketer, Medical insurance, Message, Mobile phone, Money, Money bag, Money bag v2, Money bag v3, Money folder, Money folder v2, Money folder v4, Money v2, Money v3, Mortgage loan, Mortgage loan interest payment, New, No, Notebook, Notes, OK, OK1, Open, Open lock, Options, Order, Package, Paste, Pay, Payment, Payment1, Percent, Personal loan, Piggy-bank, Pocketbook, Police officer, Police-officer, Pound sterling, Price list, Print, Properties, Property, Purchase, Purse, Redo, Refresh, Registration, Registry, Repair costs, Report, Safe, Save, Scales, Script, Search, Security guard, Shield, Signature, Sum, Synchronize, Table, Tax, Thief, Tip of the day, Tools, Tourist business, Tourist industry, Trade, Trading, Transportation costs, Undo, Up, View, VISA card, Yen, Yes.


---
A Quick Way To Make Customized iPhone Icons
The iPhone and its gadget-cousin, the iTouch is Apple's wildly popular portable gadget built to make phoning that next level of cool. The iTouch is just like the iPhone sans telephone, and it works just like it apart from the telephone portion.

When it comes to icons, the iPhone is the best, and the default application iPhone icons could be all that you want. However , it is very easy to make your own customized icons if you know a bit of Photoshop.

The basics

Create a new document in Photoshop that is 60 pixels by sixty pixels with a clear background. Then create a new layer and Select All. You are going to need to make the sides of your iPhone icon rounded so Select Smooth and make it at 5 pixels.

Take the graphic and wallpaper the icon which is the back part of the icon. This will outline the theme and it will stay uniform. Be sure and reserve it.

Ensure that your layer is selected by Ctrl+Click on the layer preview thumbnail on the layers palette. Make the background of your icon. Be sure that the full area is selected. Make a three-color gradient for best effect with the lighter side on one. Make it a Linear gradient because if you look at iPhone icons, they generally have a delicate background. Just regard it as if you are making desktop wallpaper and you will still get excellent results.

Ensure that your text on top has good contrast to your background, so you could need to darken or lighten your background depending on what you're counting on putting on top of it. You can now define what the icon is being used for. That is, what is it - an internet browser icon, picture viewer, game app. You can use a complex image or simple text to get this across.

Make your symbol design which can be a cutout of a photo or graphic, a mono- or bi-color design - anything you can think about will work. Your symbol should be focused and should have anywhere from 5- to 10 pixel padding on all sides. Match as near as you can most themes which are generally all centered.

Make A Template Of Your First Icon

When you save the icon files, you are going to need to reserve it as a PNG file. Use the File >> Save As dialog because it will not do compression which is not needed apart from web images. Reserve it as a PSD or Photoshop file which may be your template for making future icons. You can now upload the PNG file to your iPhone/iTouch and have your first unique icon for your gadget.


---
Are you looking for perfect toolbar icons? Are you looking forward to add an elegant look for your applications which you have generated so seriously? If so, then it's time to take help of the internet from where you can easily download toolbar icons for free. These toolbar icons are professionally designed and crafted and have been announced for the online market to add more help for the application makers. Toolbar icons have always managed to show their importance when there is a need to create perfect applications. For any application, toolbar is having more importance. At the same time, adding these toolbar icons for the project can really enhance the overall quality. Downloading these icons from the internet can surely add more convenience for an application maker.

Not only he will save time but also he can save more effort which he can put in for another purpose related to application making task. You have to search as well as select some web sites, which impressed you as well as giving you kind of the icons that you desire for the web site design. Quality of website will checked in terms of the aesthetics, designing, language standards, usability, experience, payment modes, client's reviews, testimonials, and many more. you may confirm genuineness of company just by contacting the clients through details in the testimonials. Cost is a matter that needs to get noticed when buying the icons for the web site designing.


---
We offer stock icons for desktop applications, web sites, mobile software, graphic design, business cards.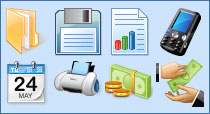 A great set of icons for sound-recording applications and audio catalogues. Wide range of sizes from 16x16 to 48x48 pixels is provided.
A collection of bright and stylish icons that will instantly enhance any web page or portal. Available in all the typical toolbar sizes.
Large Crystal Icons set holds a great variety of images in all the popular icon formats, including ICO, PNG, BMP and 3ds Max.
Large Vector Icons represent everything a vector icon set can be. Smooth, easily readable, increadibly stylish - and the best thing is, they all work together as a matching set.