Android Menu Icons
Android Menu Icons library presents 159 amazingly designed icons in a unique style. They are able to convey any information quickly and without making you bored. Professional designers have created three different resolutions, such as hdpi, ldpi, and mdpi and also included the icons in a wide range of formats. To the standard resolution has an alpha-channel which provides icon transparency, making detail more smooth on the background.

Developers who require further customization of function are able to use accessible PSD files, with an extra layer for icon depth manipulation, as well as vector sources in AI and SVG formats. For satisfying requirements of today's Android developers, the set takes in consideration both aesthetic and technical requirements in order to provide an easy-to-use and attractive product.


File format: PNG
Image sizes: 72x72, 48x48, 36x36
Resolutions: low-, medium-, and high-density screens
Background: transparent
Icon quantity: 159
Image quantity: 1324
Price: $49.00 / 39.00 EUR

Download demo
View license




Note: These icons are created in accordance with Android Icon Design Guidelines.


---
Design of mobile applications and creation of graphics should correspond with strict requirements. Re-usage of graphics intended for the other systems, such as desktops is the best way. In the best case icons will look strange and in the worst case will make your Android applications hardly recognizable.

There are strict requirement for design of standard Android icons. Different design requirements refer to tab icons and menu graphics.

In tabbed UI there are different drawn tab icons. They are displayed in two various states: unselected and selected. It is advised to create tab icons in simple forms opposed to images in 3D or isometric projection.

Using a wide range of hardware Android OS and Android applications can work on various platforms. According to graphics there platforms have various screen sizes, display resolutions, pixel density and dimensions are present. In order to adapt variety of screen sizes, developers of Android applications should create all tab icons in a minimum of three sizes, which will be designed for low, medium and high density screens. The outer boundaries of these sizes can be characterized as 24x24, 32x32, and 48x48 pixels. Inner sizes should be large than 22x22, 28x28, and 42x42 pixels. The application will work properly in a variety of Android OS platforms, if the developers will use all three standard sizes.

When a user presses Menu button he can find different icons, same as pressing "options" in menu. Menu icons are the same as tab icons and must look as flat and grayscale images. Developers cannot use 3D or isometric projections the same as tab icons.

In comparison with tab iicons, screen sizes of menu icons are defined in a more exhaustive way. If for tab graphics only two resolutions are possible, the inner size of menu icons can be maximized or minimized due to their square shape. If they have square shape then the size will be smaller than for the icons of other shapes. The main cause of having two various sizes is in getting a visual weight across two icon types.

Low, medium and high resolutions have outer sizes of 36x36, 48x48, and 72x72 pixels, while inner sizes for square, low-definition icons are 22x22 pixels and non-square icons should suit to a boundary box sized 24x24 pixels. Also mdpi icons should fit 30x30 and 32x32 pixel boundaries, when high-definition images should fit into 44x44 and 48x48 pixel squares.

Instead of creating your own icons corresponding to all the requirements Android developers have a choice of icons from professional designers, among them are Android Tab Icons by Aha-Soft which offer 112 unique tab icons and all three standard sizes. If an additional size is required, developers can create graphics of any size by using scalable vector sources. Android Tab Icons can be seen and downloaded at http://www.aha-soft.com/stock-icons/android-tab-icons.htm.

Android Dialog Icons can be seen and downloaded at http://www.aha-soft.com/stock-icons/android-dialog-icons.htm.


---
Android Operating System – It's all About Easier and Quicker Interface Through Mobile
Android is considered as a software stack for mobile gadgets that involves middleware, key applications and an operating system. The initial developer of the software has been purchased by Google Inc. in this regard, Android has widely known as Android Inc from 2005. Android operating system has been designed through Linux kernel. This operating system has marketed by Google members and other members of Open Handset Alliance. Today, Android has considered as a larger community of apps developers for mobile gadgets.

There are numbers of mobiles available in the market which is fully based on Android operating system. However, especially smart phones are fully designed through Android operating system. Now, you can use the Android operating system by purchasing of smart phones from the market. It is an open source software stack that consists of java applications which is running on a java based, object oriented application framework. It is the best option for you to take more advantages of using this operating system through smart mobile gadget. Android open source program stack comprises of the Java applications that are running on the Java based, and object oriented application on the top of the Java core libraries running on Dalvik virtual machine and featuring the JIT compilation.

The libraries that are written in the C include surface manager, the OpenCore media framework, the SQLite relational management system, the OpenGL ES 3D graphics API, the WebKit layout engine, the SGL graphics engine, and Bionic libc. Android operating system, which includes Linux kernel, comprises of 12million lines of the code including three million lines of the XML, 2.8 million lines C, and 2.1 million lines of the Java, as well as 1.75 million lines of the C++.


---
We offer stock icons for desktop applications, web sites, mobile software, graphic design, business cards.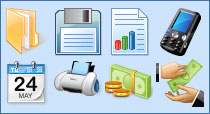 A great set of icons for sound-recording applications and audio catalogues. Wide range of sizes from 16x16 to 48x48 pixels is provided.
A collection of bright and stylish icons that will instantly enhance any web page or portal. Available in all the typical toolbar sizes.
Large Crystal Icons set holds a great variety of images in all the popular icon formats, including ICO, PNG, BMP and 3ds Max.
Large Vector Icons represent everything a vector icon set can be. Smooth, easily readable, increadibly stylish - and the best thing is, they all work together as a matching set.